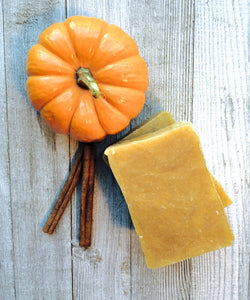 Legend has it that during the 14th century, a plague broke out in Europe. The illness was highly contagious. As a result, most people avoided contact with the infirmed. However, a group of thieves were caught stealing from those who had succumbed to the illness. In exchange for their freedom, the thieves shared the recipe for a special blend of essential oils that enabled them to avoid the illness. We've combined that recipe, with just a dollop of pumpkin, into a base of skin loving oils. Enjoy!

* (You may also enjoy our Old World Thieves Shower Steamer). 

Scent: warm, sweet, cinnamon
approx. weight 5 oz

NO SLS
NO parabens
NO phthalates
NO sulfates
NO soy

made with GMO free oils
sustainable organic palm

Ingredients: Saponified oils: (Organic olive, organic palm, organic coconut, organic palm kernel, organic sunflower, organic castor, organic cacao), distilled water, pumpkin, gluten free ground oats, kaolin clay, essential oil blend, rosemary extract, wild silk


For external use only. Not for consumption. Cinnamon may irritate sensitive skin. Discontinue use if irritation occurs.
This listing is for 1 bar.