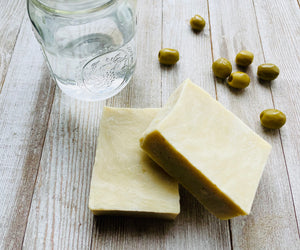 Castile soap originated in the region of Castile, Spain. Its production predates 2000 B.C. According to historians, the Babylonians were among the first to use vegetable fats in place of animal fat to make soap. Their combination consisted of bay laurel oil and olive oil. Because the bay laurel oil was unavailable, the people in the Castile region used 100% olive oil. 
Today, soaps that contain both olive and other vegetable oils, but is free of animal fats is referred to as "castile". However, in keeping with old world tradition, we've combined 100% organic olive oil and water. That's it. Delicate, simple, ancient.
Unscented
weight 5 oz

NO SLS
NO parabens
NO phthalates
NO sulfates
NO soy

Ingredients: Saponified organic olive oil and water


For external use only. Not for consumption. Discontinue use if irritation occurs.

This listing is for 1 bar.