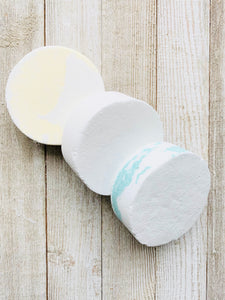 Add a sweet minty fresh boost to your hot shower! A proprietary blend of essential oils is released as the steamer is activated, turning your shower into a spa like experience. Balancing, uplifting, refreshing! Enjoy!


Note: Fresh Matcha naturally oxidizes to a darker color upon use. 

Available in 2 sizes (below)

FOR SHOWER USE ONLY. Not intended for use as a bath soak or fizzy. For adult use. Not intended for children. Consult with your doctor before use if you have a medical condition or are under a physician's care. Discontinue use if irritation occurs.